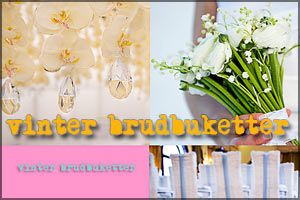 Vinter brudbuketter under de senaste två veckorna har många mailade mig för att se fler brud buketter vinterbröllop vill rådgivning idéer och tips.
Vad är hett just nu är mindre-är-mer till dina färger. Jag har valt den vita buketten med Lily of the Vally accents. Du kan lägga till några vinterbröllop detaljer vita rosenblad i egenskap snöflingor täcker vit sits med en ljusblå sidenband.
Ett hett tips Orkidéer ser bra inomhus dekorera ditt bröllop inredning men utsidan kylan brukar fungera för dem. Jag minns ett bröllop på – 14 , hade bruden en orkidé i håret, fotograferade vi gör bröllopet porträtt utomhus, inom några minuter av att vara inne i orkidén brudbukett och orkidéer i håret var vissna. Tur blomman butiken var fortfarande öppen.
In the last two weeks many have emailed me to see more winter wedding bouquets  wanting advice ideas and tips .
What is hot at the moment is less-is-more to your colors . I have chosen the  white bouquet with lily of the vally accents . You can add some winter wedding details  white rose petals acting as snow flakes , white seat covers with a light blue satin ribbon.
One hot tip Orchids will look great indoors decorating your wedding interior  but the outside cold wont work for them .  I remember one wedding at 14 below , the bride had an orchid in her hair , we photographed doing the wedding portraits outside , within minutes of being inside the orchid wedding bouquet and orchids in her hair were wilting .  Lucky the flower shop was still open !